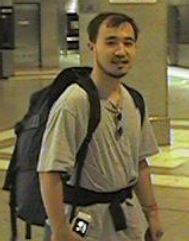 Mitsunori Matsushita

Profile:
Mitsunori Matsushita was born in Japan, 1969. He recieved the B. E. degree in precision engineering in 1993, the M. E. degree and Dr. Eng. degree in engineering science from the Osaka University, Japan, in 1995, 2003 respectively. He is currently a researcher working at the Communication Science Laboratories at the Nippon Teregraph and Telephone Corporation (NTT) .
His current interests include temporal granularity and its representation, natural language understanding, computing with words, information visualization and interaction design.

Academic society functions:
Research Interests
multimodal QA
natural language understanding
information visualization
interaction design
computing with words
A list of his publications are here.
Awords:

Contact to: mat@cslab.kecl.ntt.co.jp
Communication Science Laboratories
Nippon Teregraph and Telephone Corp.



Last Modified :Fri 29 Mar 2002 09:45:06 AM JST