GoiTaikei --- A Japanese Lexicon CD-ROM
Summary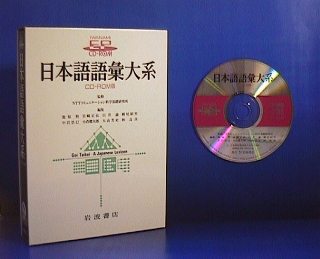 GoiTaikei --- A Japanese Lexicon CD-ROM is an electronic version of the five volume GoiTaikei --- A Japanese Lexicon (Japanese link) published by Iwanami Shoten. It contains 300,000 Japanese words marked with patr-of-speech and semantic classes, originally developed for the ALT-J/E Japanese-to-English machine translation system by NTT. In addition, it has a valency dictionary containing detailed information on predicate structure usage for 6,000 Japanese predicates including the number and type of arguments (valency) and selectional restrictions on the arguments. A total of 14,000 Japanese patterns, including ordinary sentence structures and idiomatic usage, are paired with the equivalent English patterns. An index of Japanese nouns and an English index enables readers to search for pairs of sentence patterns, using Japanese or English vocabulary.
The parts of the dictionary are shown below. All the figures are in Japanese, as it is a Japanese dictionary.
Product Information (In Japanese: Iwanami Shoten)
Operating Environment
The CD-ROM is in the EPWING format, popular in Japan for electronic dictionaries. It comes with software for Microsoft Windows and Apple Macintoshes, and can be used with the GPL-ed EB library under Unix.
Windows

Japanese Windows98, Windows95 or later
Pentium 75MHz or faster
4xCD-ROM drive
16MB or more (32MB recommended)

Macintosh

KanjiTalk Talk7.5.3 or later (MaxOS8+)
CD-ROM drive
4.5MB or more (8MB recommended)

Unix/Linux
Restrictions on Use
You may use the data on the CD-ROM for research, so long as you follow the restrictions on use (in Japanese) shown on the CD-ROM.
References
Satoru Ikehara, Masahiro Miyazaki, Satoshi Shirai, Akio Yokoo, Hiromi Nakaiwa, Kentaro Ogura, Yoshifumi Ooyama and Yoshihiko Hayashi (1997)
Goi-Taikei --- A Japanese Lexicon. Iwanami Shoten, Tokyo.
---
Machine Translation Research Group
NTT
Communication Science Laboratories
---
Last modified: Sat Jun 15 12:52:42 JST 2002