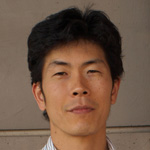 ---
RESEARCH INTERESTS
Human sensory processing
Material perception
Visual motion perception
Information integration across visual modules and sensory modalities
Time perception
RECENT STUDIES
Surface gloss perception, Liquid viscosity perception
Hengentou - Deformation Lamps: Projection mapping producing illusory motion (
Tactile psychophysics
Time marker theory of subjective simultaneity, and temporal binding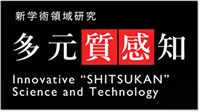 Publications
Hisakata, R., Nishida, S., & Johnston, A. (2016). An Adaptable Metric Shapes Perceptual Space. Current Biology, 26(14), 1911-1915.
Kawabe, T., Fukiage, T., Sawayama, M., & Nishida, S. (2016). Deformation Lamps: A Projection Technique to Make Static Objects Perceptually Dynamic. ACM Transactions on Applied Perception, 13, 2, Article 10.
Kawabe, T., Maruya, K., Nishida, S. (2015). Perceptual transparency from image deformation. Proc Natl Acad Sci USA. , 112(33):E4620-7.
Roseboom, W., Linares, D., & Nishida, S. (2015). Sensory adaptation for timing perception. Proceedings Biological Sciences / The Royal Society, 282(1805), 20142833-20142833.
Ho, HN, Iwai, D., Yoshikawa, Y., Watanabe, J., Nishida, S. (2014). Combining colour and temperature: A blue object is more likely to be judged as warm than a red object. Scientific Reports, 2014 Jul 3;4:5527
Nishida, S. (2011). Advancement of motion psychophysics: Review 2001-2010. Journal of Vision, 11(5), 11, 1-53.
Motoyoshi, I., Nishida, S., Sharan, L. & Adelson, E.H. (2007). Image statistics and the perception of surface qualities, Nature, May 10; 447(7141): 2006-2009.