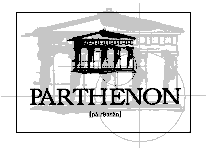 PARTHENON Downloads
(To Japanese page)
(To Spanish page)
---
PARTHENON (pre-release) Version 2.4.1 Binary Package Collection
Here you can get the newest version of PARTHENON (pre-release) for various platforms.
Each platform may require its native installation tasks. Please visit and see the appropriate page below for details.
Dec. 3, 2001: PARTHENON Version 2.4.1 Release Notes
Some serious bugs detected by users, including the below, has been fixed:

SFLEXP's abnormal termination
Incorrect optimization by RINV
Possible hang-up by NLD_PS
2SECONDS' corrupted help command

NLD_XNF is bundled as an executable binary.
Aiming at providing information on 2SECONDS, a paper by the tool's author is bundled (as /usr/local/parthenon/doc/2seconds/ja/original.pdf), in PDF form. Sorry, but it's in Japanese.
ALTERA/altera cell library has been updated to version 1.0.1: included partenon.lmf has been corrected.
GATEFIELD/GF250F cell library has been updated to version 1.0.1: included cell.dir/GLC.pcd has been corrected.
Common release notes since version 2.4.0
Sep. 1, 2000: version 2.4.0

Each tool of this version is compatible with the previous (2.3.x) version: you can use this version of PARTHENON as you used to.
Both SFL2Verilog and SFL2VHDL that had been separately distributed from this page, are included. The SFL parser SFLPAR, however, which is necessary to flatten a module hierarchy in SFL description is not included. Please get it from Datasight's distribution page (http://www.algopro.co.jp/sflpar/index.htm), if you need it.
Various additional cell libraries are provided as packages:

GATEFIELD's GF100K library has been updated against the previous one in this page. This update includes a significant change: the new library assumes the power-on reset signal (emitted to the global terminal p_reset) to be NEGATIVE (i.e., ACTIVE-LOW). Users of the previous library which assumes the signal to be positive must take care.
GATEFIELD's GF250F library has been released. This library also assumes the power-on reset signal to be negative.
---
PARTHENON (pre-release) Version 2.3.0.6 for Windows
Here is a self-extractable package of PARTHENON (pre-release) version 2.3.0.6 for Windows95/98/NT4.0/2000. This package does not include a valid password file and requires license setup instructed in the following section.
par2306w.exe (1,484,461 Byte)
See this file (in Japanese) for the details on how to install the package.
---
SECONDS for Windows (GUI version) Version 2.3.1 (Beta4)
Here is a zip-compressed package of SECONDS for Windows95/98/NT4.0/2000. This packages includes a license which expires on Mar. 31, 2003.
winsec231b4.zip (927,826 Byte)
See "man07.html" which can be extracted from the package for the details on how to install or other information.
---
When the bundled license is expired, a new password file (named parthe.non) can be downloaded from the table below:
Please refer the OS-specific pages listed on top of this page on how to install the downloaded file.
Note
The future license updates will not require to re-install entire package: you will need only to overwrite the password file.

The each line of "parthe.non" should contain LF (line feed) code without CR (carriage return). Please check the file size of downloaded "parthe.non".
Please refer to the PARTHENON society website http://www-lab09.kuee.kyoto-u.ac.jp/parthenon/ for the newest information including the license after the above-mentioned term.
---
We are sorry but the pre-release versions of PARTHENON available here may include obsolete documents. Please check the up-to-date information on this web site instead.
---

More information about PARTHENON

Homepage
---